CHEWABLE VITAMIN C Tablets – Immunity Booster
$30.00Purchase this product now and earn 30 points!
It has antioxidant and anti-inflammatory properties that suppress free radicals to protect your skin from damage.  
It uses a blend of Vitamin C and Bioflavonoids to slow the progression of aging.
It boosts collagen production to minimize wrinkles and fine lines.  
It promotes wound healing and boosts the immune system. 
It uses a synergistic blend of Vitamin C and bioflavonoids.
The bioflavonoids from sago palm, rosehips, acerola berry tree, citrus fruit peels, and rutin aid in the development and repair of body tissue.
The recommended dosage is 1 -3 tablets a day (depending on your immune system and your stress levels).
Take it with your meals in the morning, noon, and evening.
| Skin Type | Skin Concerns | Size |
| --- | --- | --- |
| | | 500 mg / 90 tablets |
Free shipping on orders over $99!
Satisfaction Guaranteed
No Hassle Refunds
Secure Payments
Naturally Derived Ingredients
Vitamin C
Aids the growth, development, and repair of all body tissues.
This easy to chew synergic blend of Vitamin C (infused bioflavonoids from acerola berry fruits, rose-hips, citrus fruit peels and rutin with buffered vitamin C) is an alternative to those who have problem swallowing the 1000 mg tablet. This 500 mg chew-able tablet is easy to chew and consume. Vitamin C is needed for growth and development and repairs of all body tissues, The anti-oxidant and anti- inflammatory property together with free radical suppression makes this vitamin C blend a very important vitamin in the body to slow down progression of aging process, boost collagen production to minimize wrinkles and fine lines and healing of wounds. Over 100 studies in the past 10 years show that vitamin C is needed for absorption of iron and hence oxygen transport (Energy), maintenance of cartilage, joints, bones and teeth. According to Mark Moyad, MD, MPH (WEBMD)," vitamin C in blood is an ideal nutrition marker for overall health protecting our health from cardiovascular, stroke, eye health, immunity to living longer". Vitamin C is the only vitamin you need to take throughout the day to neutralize the free radical encountered throughout the day. Many decades of studying vitamin C shows that the vitamin C level drops before the onset of cold and taking vitamin C before cold is recommended by nutritionists. The Beyond Vitamin C, together with turmeric, olive leaf and echinacea extracts forms a formidable cocktail to boost the immune system.
This time release Beyond Vitamin C is buffered and gentle to the stomach.
Extraordinary times need extraordinary measures. However, all we are asking you to do is to chew on this chew-able version of Vitamin C. And this is a simple measure you can take to keep your body and immune system functioning at their peak.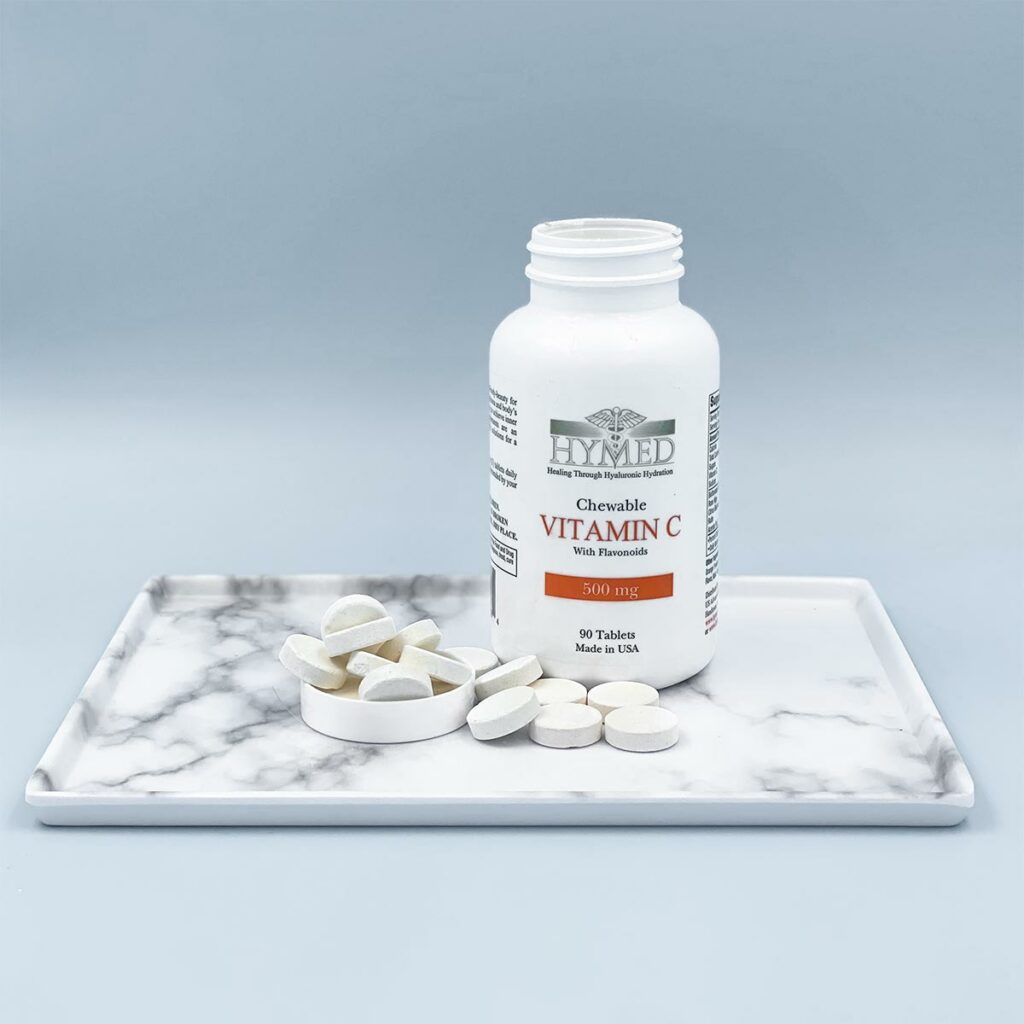 All Ingredients
Frequently asked questions